---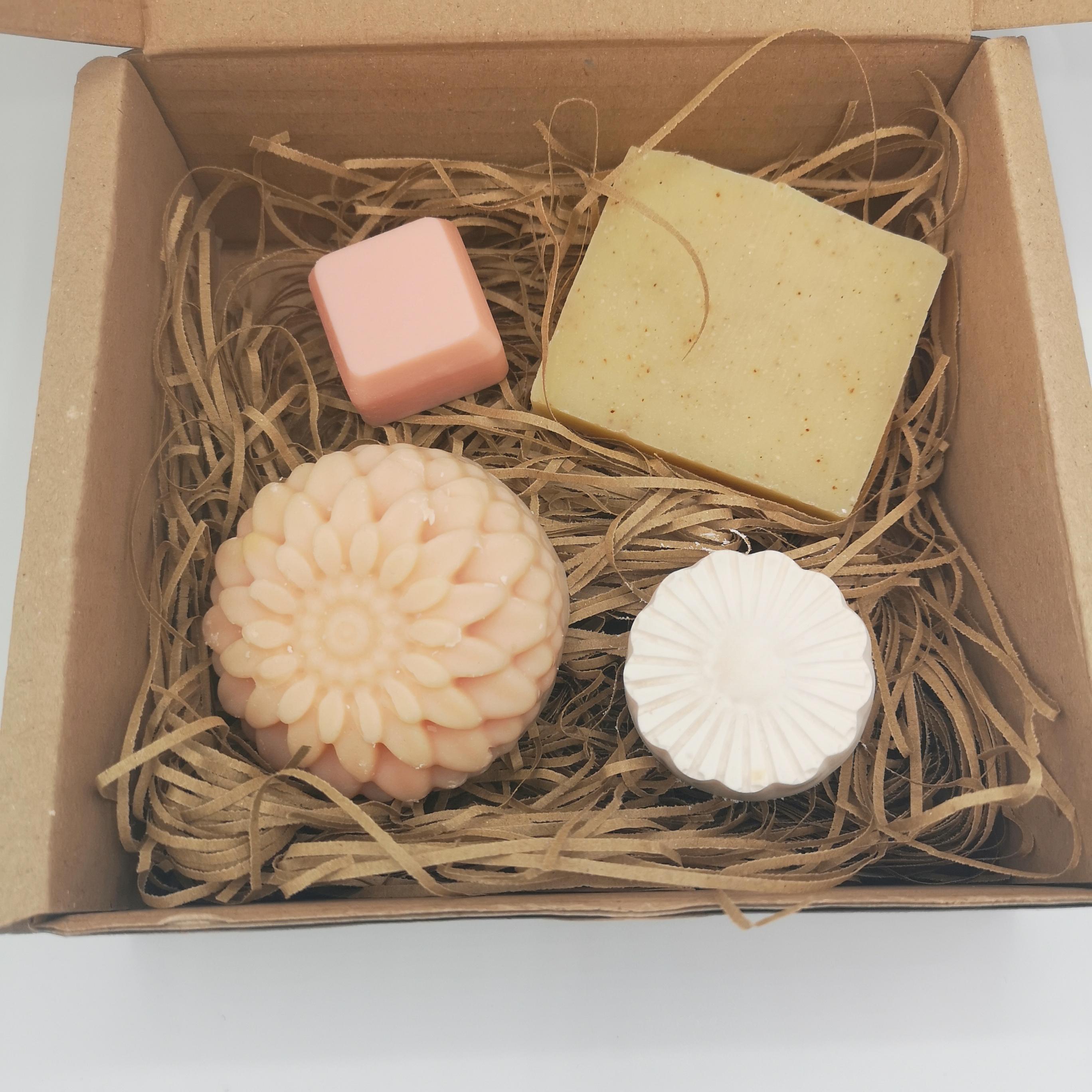 Proud Mary Set 1
---
✨Only 3 in stock ✨ 
A beautiful selection of Proud Mary's finest handmade organic and zero waste products. 
Includes:
1  x  Lavender, Rose Geranium & Patchouli Shampoo Bar
1x Apple & Rose Geranium Conditioner Cube 
1x Peppermint hand and body soap
1x Papaya face daily scrub bar
100% Compostable Packaging 
100% Vegan
 FREE from sulphites, palm oil and parabens. 
Proud Mary's soaps & shampoo are made with  the saponified oils of fair trade coconut, cacao, shea, castor, olive, rapeseed, jojoba, peach kernel, avocado, sweet almond and mangoseed.  Also contain essential oils of lavender, rose-geranium, patchouli & peppermint. Linalool, Eugenol naturally occurring 
Proud Mary's Shampoo range is excellent for most hair and scalp types, with no need for transition or acid rinse. Simply wet the bar, build a thick bubbly lather and transfer onto scalp. Rinse thoroughly and repeat. Enjoy the wonderful scent of natural essential oils while the formula repairs and restores both scalp and hair. 
Hand & Body Soap: Refreshing peppermint with a hint of hot chocolate. Gentle and effective. Yummy buy not edible. Avoid contact with eyes! 
Papaya Face scrub:  Made according to the traditional Afro-Caribbean recipe to gently exfoliate and brighten dull skin. Soothing and gentle. Daily use improves skin tone and reduces hyper-pigmentation. 
Made with the saponified butters of Coconut and Shea. Proud Mary adds Papaya Seed extract, dried ground papaya skin, and Jamaican black almond oil to hydrate and restore. 100% Handmade in small batches.